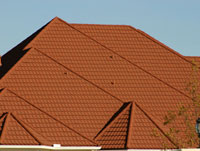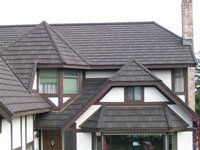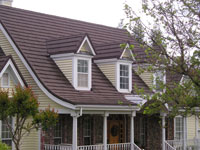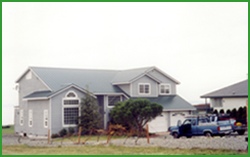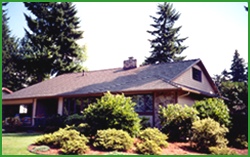 Metal Roofing - Metal Roofing Systems - Metal Roofing Contractors
Conquest Stone Coat - Metal Tile Roofing
Long Lasting Beauty
Manufactured using the finest lightweight zinc/aluminum alloy-coated steel, covered with ceramic coated stone granules and sealed with our exclusive polymer coating, the Conquest Tile or Conquest Shake™ roof will enhance your home's visual appeal and market value while protecting your investment and family.
Value & Peace of Mind
The interlocking metal roof panels provide a weather-tight barrier against the harshest elements. Each non-combustible Conquest Stone Coat panel is UL Classified Impact Resistant to Class 4 UL Standard 2218, the highest rating available. Warranted for 50 years against 120 mph winds and hail penetration, Conquest Roofing Systems provide value and piece of mind.
Save Money
You'll save money when you install a Conquest Stone Coat metal roof. This light weight roof can be installed right over your existing roof saving you the cost of tearing off and disposing of your old roof as well as the re-sheet costs.
Maintenance Free
That's right - no maintenance. Ever. No moss, no algae.
Call or use our easy on-line form to get your free roof measurement and bid then see how much you can save with a new Conquest Tile or Conquest Shake roof.
---
Conquest Seam™
Clean Sleek Appearance
The coating on Conquest Seam™ is high-resin content paint designed to resist fading, salt air, corrosion and general elemental harshness. The base metal is corrosion-resistant as well.
Maintenance Free
The Conquest roof sheds leaves, needles and snow with ease.
Custom Colors
Conquest offers the widest variety of colors, and we can color match virtually any paint for coating to customer-provided color samples. We inventory colors in 24, 26 and 28 gauge galvanized pained steel coil and sheet stock in polyester, SMP and Kynar pain systems.
Environmentally Friendly
Metal roofing is completely recyclable. You'll enjoy the beauty of traditional roofing products while preserving our natural resources. All Conquest roofs carry a transferable, lifetime warranty so they will never have to be replaced.
Call or use our easy on-line form to get your free roof measurement and bid then see how much you can save with a new Conquest Standing Seam roof.
---
Conquest Smooth Coat
Long Lasting & Cost Effective
Enjoy the natural beauty of slate or shake with the lifetime performance of steel and tremendous cost savings. This slate or shake roof can be installed for about 70 percent less than a traditional slate roof system. Conquest Slate and Conquest Shake help your home last longer because they eliminate the weight overload problems of traditional slate and ceramic tile roofs.
Self Cleaning
Conquest Slate™ self-clean every time it rains; eliminating moss, algae, and tree debris problems.
Endurance
Conquest Slate™ comes with a solid 50-year warranty - including material and replacement labor - demonstrating Conquest's commitment to excellence in product design and field-proven performance. In addition, the panels are heat reflective making them more energy efficient - which helps reduce energy bills.
Natural Design
Traditional wood grain or slate texture with earth tone color choices accent any residential or commercial project.
See how much you can save with a new Conquest Slate or Conquest Shake roof. Call or use our on-line form for a free measurement and roof bid.