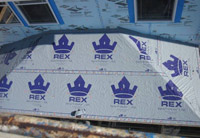 Roofing Underlayment - Synthetic Roof Underlayment
Conquest Super Layment™
The new Conquest SynFelt high strength woven synthetic roof underlayment is the right choice for your projects. Competitively priced with 30# conventional felt and priced 20% to 30% below it's other synthetic competitors, the benefits outweigh the rest of the field.
Super Strong! Light Weight! Self Sealing!
25 Year Warranty! More Cost Effective!
Conquest SynFelt

100% Polypropylene —Self Sealing
Approved for adhesives meeting ASTM D-4586 Type1 or Federal Spec SS-153 Type1
Most slip resistant in the industry
2.8 lbs per square 30 lbs per square 10 square per roll—48" wide by 250 feet long
20x stronger than felt
77 lb cross directional tear strength
Can be left exposed for 6 months without degrading
25 year warranty
Lays flat—Superior drapability—Resists water
Preprinted overlap lines and nailing pattern
"Class A " UL fire rating
Saves up to 50% of time on installation labor
Consistent price and availability
For orders of 40 pallets or more we will print your company name and phone number on the product at no additional charge. Product can be delivered in 3 to 5 days from our regional distribution centers. Please contact a Conquest representative for price and availability details.
Call or use our easy on-line form to get your free roof measurement and bid then see how much you can save with a new Conquest Super Layment roof.