Home Improvement Comparison
Return on Home Improvement Investments
Home improvements add beauty, comfort and value to your home. You'll enjoy the increased beauty and comfort of your home every day. These improvements pay off when you sell your home and when you get a loan against the value of your home.
The National Association of Real Estate Appraisers mentions twenty popular home improvements in this illustration. A new roof brings an 88 percent return on investment, one of the highest rates of return. A new metal roof also adds beauty and needs little or no maintenance.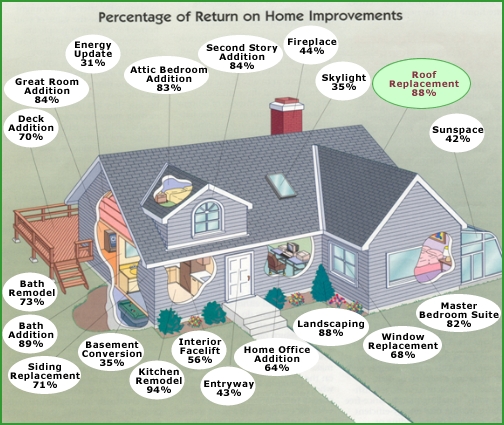 It's easy to add both beauty and value to your home with a new metal roof.
Call or contact us on-line for a free roof analysis and quote to see how a new metal roof will add value to your home. Conquest Consulting serves the greater Seattle, Washington area.