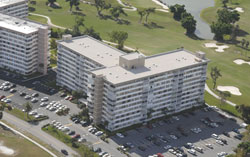 "After consistently patching our flat roof and repainting our ceiling wet spots we decided that a tar roof would not be an option for our re-roof project. Thanks to Conquest and our Conquest Blanket roof system heating and cooling bills have been reduced and we no longer worry about leaks."
Flat Roofing Systems
Conquest Blanket
Longest Lasting Flat Roofing System
Conquest Blanket is perfect for low slope or low pitch roofs. It has had roofs installed for over 30 year without a failure. A special CPA membrane will keep your building dryer longer, save you money in damage and repair and give you the longest lasting roof system available today.
Four More Great Reasons
to Choose Conquest Blanket
Mechanically sealed seams create a one-piece blanket over your roof.
Fire proof.
Engineered to withstand harsh environments from Hawaii to Alaska.
Walking decks.
Save Money
The Conquest Blanket roof system saves you money three ways:
cost effective Roof life.
it will lower your heating and cooling bills.
you'll say good-bye to repair bills for leaks as ponding water.
Zero Maintenance
The Conquest Blanket flat roof system is maintenance free. Zero cleaning and never re-coat it.
The secret to Conquest Blanket™ roof systems is the CPA formulation. With this type of formulation Conquest Blanket™ roof systems have been able to engineer the perfect blend of polymers and elastomers to give you a roofing product that is proven to withstand some of the harshest environments from Alaska to Hawaii.
See how much you can save with a new Conquest Blanket flat roof. Call or use our on-line form for a free measurement and roof bid.